Redefining Luxury Lingerie with Elegance and Conscience With Kay Lang
Lingerie is not just a piece of clothing, but can also be a statement of confidence, power, and authenticity. Vixen & Fox, an emerging lingerie brand from Australia, has embraced this philosophy by creating luxurious lingerie pieces consciously designed for the modern woman who knows what she's worth.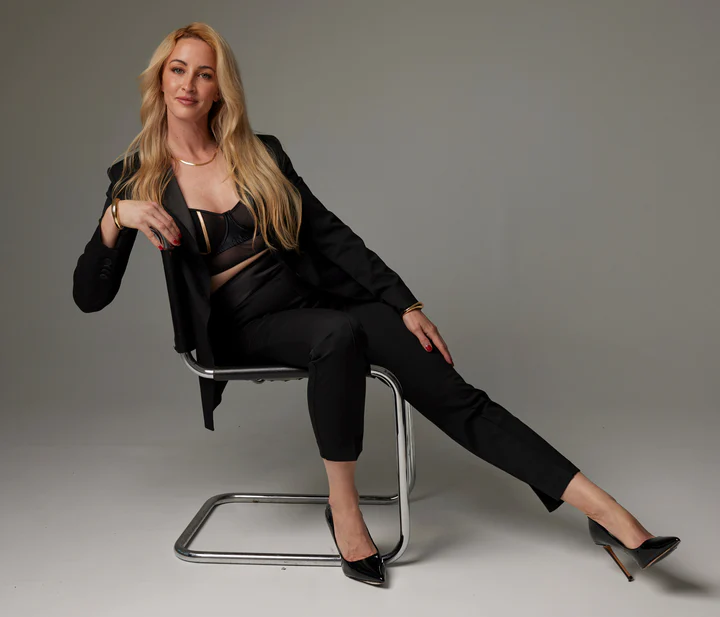 A Concept Guided by the Founder: Kay Lang accompanied by Brigade Mondaine
The essence of Vixen & Fox is rooted in the vision of its founder, Kay Lang. She set out to offer much more than beautiful lingerie. She created a brand that focuses on storytelling, awareness, education, support, recovery and empowerment. As a survivor and visionary, Kay Lang embodies the determination and resilience at the heart of the brand.
Vixen & Fox's unique identity rests on its advocacy of women's freedom, while redefining luxury lingerie. The brand has chosen to take the road less traveled, maintaining its integrity throughout the creative process.
A Vibrant Community
Vixen & Fox isn't just about creating exquisite undergarments. It's a community dedicated to the upliftment of women. It's a space where women share their stories, support each other and empower each other through awareness, education, empowerment and connection.
This vision is what sets Vixen & Fox apart from other lingerie brands. Beyond the clothes themselves, the brand strives to create an environment where women feel valued, encouraged and strong.
The Collection "BOLD"Art Deco Inspired
Vixen & Fox has introduced its first foray into Art Deco with the "BOLD" collection. This collection embodies a subtle balance of softness, sophistication and strong lines. Sheer Italian mesh panels and black and gold trim create a bold, elegant aesthetic.
Although Vixen & Fox's Bold collection may seem bold, it's designed to fit the wearer perfectly and be comfortable all day long. It demonstrates that lingerie can be both aesthetically pleasing and functional, while reflecting the confidence and strength of the modern woman.
In conclusion, Vixen & Fox goes beyond simply creating luxurious underwear. It's a statement of confidence, authenticity and resilience. This lingerie brand reminds us that the way we dress can influence the way we feel. It encourages us to embrace our true worth and live with intention. Vixen & Fox is much more than a lingerie brand, it's a celebration of the modern woman and her inner strength.
Beyond its mission to redefine luxury lingerie, Vixen & Fox is actively committed to making a difference in the community by fighting domestic and family violence. The brand has forged a strong partnership with Full Stop Australiaan organization dedicated to ending domestic and family violence through various initiatives, community awareness-raising and advocacy for legislative change.
This partnership between a fashion brand like Vixen & Fox and an organization dedicated to protecting victims of domestic violence demonstrates the power of collaboration in achieving meaningful change. Working hand in hand, Vixen & Fox and Full Stop Australia are helping to create a safer, brighter future for women and children in need of support and protection.
Ultimately, Vixen & Fox embodies the idea that fashion and lingerie can be much more than just clothing. It's a tool for expressing confidence, resilience and support for others. By committing to the fight against domestic violence, the Vixen & Fox brand reminds us that we can all do our part to create a better world.
In conclusion, Vixen & Fox embodies a true fusion of luxury lingerie and community involvement. Vixen & Fox is not only redefining luxury lingerie, but also redefining what it means to be an engaged brand. In partnership with Full Stop Australia, Vixen & Fox demonstrates that fashion can be a powerful catalyst for social change.
In this way, Vixen & Fox transcends the boundaries of the fashion industry by being an active partner in the fight against domestic violence. Through this strong partnership, the brand is helping to raise awareness, provide crucial support and advocate for necessary legislative reforms. It is Vixen & Fox that brings a glimmer of hope to victims of domestic violence, helping to heal their wounds and build a better future.
In short, Vixen & Fox doesn't just create luxurious lingerie, it makes a significant difference in the lives of women and children. With Vixen & Fox, fashion meets social commitment, for a world where elegance rhymes with conscience, and where Vixen & Fox is the driving force behind the change we wish to see in our society.
Brigade Mondaine is proud to present Bold for the first time.
Showroom appointment
– Private and customized shopping –