The sexy leather lingerie, a must for naughty pleasures! 
Sexy, sensual and feminine, leather lingerie has become a must-have in your closet. It mixes pleasure, comfort and style!
Assert your sensuality and release the rock woman in you! Spice up your sex life and surprise your partner.
On the website of Brigade mondaine you will find a large selection of leather lingeriefrom the most naughty to the most outrageous!
How to wear a leather bra?
Modernize your ensembles with leather bras.
A two-in-one product that will allow you to make great looks, wear it as classic lingerie, under clothes or as an everyday top.
You can opt for the soft cup bra Nappa leather bra from ELF Zhou London, a piece to wear during the day under a sheer blouse or a fitted blazer, with a skirt or mom fit jeans. This bra, without underwire, is both elegant and incredibly comfortable.
For more audacity, you can opt for a harness bra from Elif domanic, made of calf leather, this top is at the same time a bust harness, a torque necklace and an open bra.
You can also choose the Cassandra bra from Ichor, this piece in fine 2mm leather completely open at the back will leave no one unmoved. An elegant piece that can be worn alone, under or over a garment.
How to choose your sexy leather outfit?
There are many pieces of leather lingerie, what to modernize and enhance your outfit.
Choose your pieces and your sexy leather outfits according to your program of the evening or the day; Meal ? Naughty night out? First date ?
For an evening out, we recommend a leather lingerie set. Ichor offers sets with leather thongs, the Camille thong in plum leather perfectly fits the joints of the body to offer maximum comfort and adjusts to the hips and crotch, designed to be worn with the leather bra, this set can also be accompanied by suspenders. Asche & gold offers you a Harness breeches in old gold lambskin Nappa leather to match with other leather accessories of the brand.
If you're going to a party and want to stand out from the crowd, we recommend a leather harness, perfect over a sheer tee and skivvies. The amelia playsuit leather old gold signed Asche & Gold is a pure force of elegance, it will be perfect for your summer evenings. The open leather body Liquorice by ELF Zhou London can be worn alone, this bodysuit combines leather elements and naughty openings to sublimate your curves to perfection, open back and notch on the hips will highlight you.
For a more casual yet rocking outfit, dress up your everyday tops with our selection of leather bodysuits. The ada body panty in vegetable leather by Ichor will dress up both bare skin and a suit for a provocative effect.
The leather bow bodysuit by Elif Domanic to wear alone or over a fishnet catsuit will also be perfect to dress up your outfits.
The quality of the leather lingerie, a crucial element
When choosing your leather underwear, take into account the quality of the leather.
Faux leather does not give the same effect as real leather. The higher the quality of the leather, the more comfortable, elegant and sensual it looks. In addition, quality leather will be more durable and softer.
Brigade mondaine offers a wide selection of high end designers and high quality leather products.
Ichor is a Parisian brand that makes its lingerie and accessories entirely by hand from vegetable-tanned leather. Each creation follows an artisanal and traditional manufacturing process. The skins are selected one by one and come from French and Italian farms that meet European ethical and ecological standards.
ELF Zhou London handcrafts its products from Italian leather called "Nappa", the nappa leather is soft, without grain and resists to the sun and the weather.
Asche & Gold offers a wide selection of Italian nappa lambskin leather products with a matte sheen and soft feel from Berlin-based supplier Fauck.
Elif domanic also offers handmade nappa leather products in Istanbul.
Which room is right for you?
The choice of your leather lingerie also depends on your morphology, indeed, leather sticks to the skin and can quickly become uncomfortable if it does not fit properly. It is a fairly rigid material that must fit your body and your shape but there are many sizes for all types of women.
Finally the piece that is made for you will be the one in which you feel the best, the choice of your leather lingerie piece depends on you, on what occasion do you want to wear this new piece? And what effect do you want to make?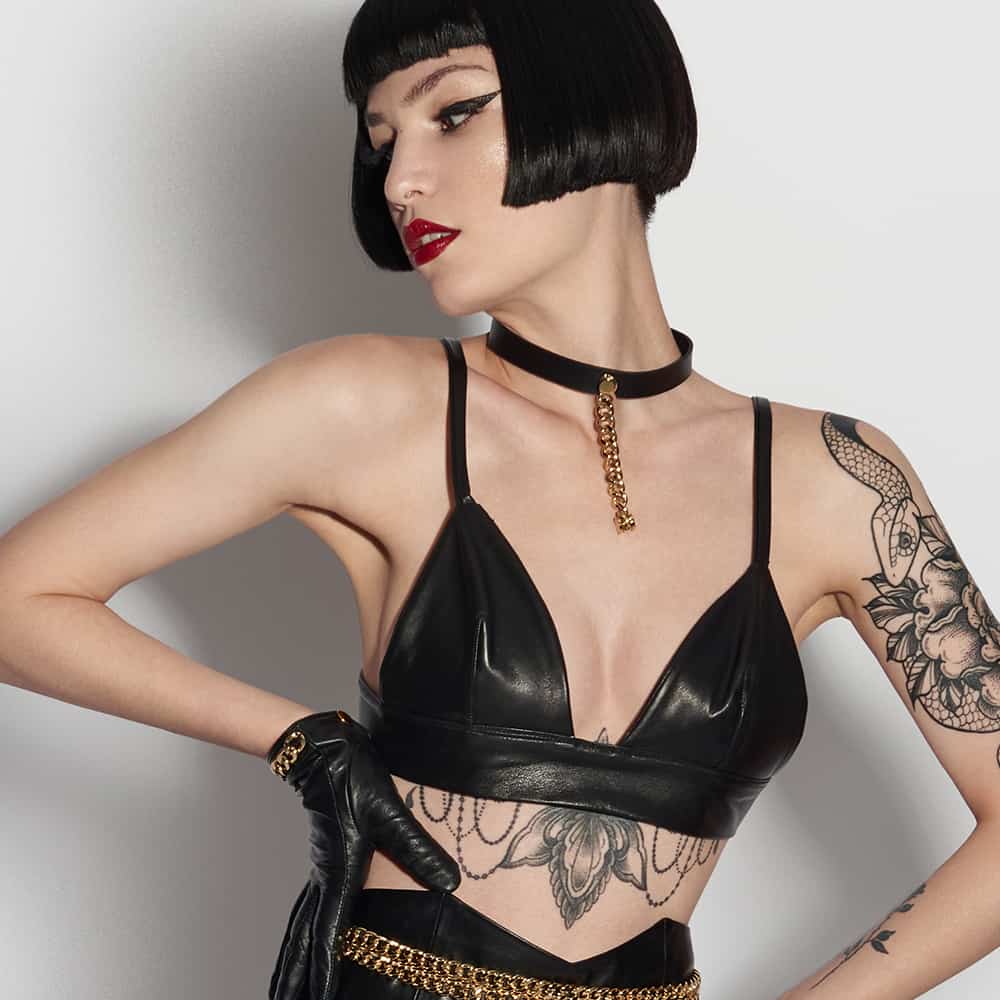 Take a look at the Brigade Mondaine website and find your happiness among our selection of leather pieces, each more unique than the other! 
Lingerie Accessories
A selection of luxury lingerie accessories of exceptional quality, from harnesses to garters, including chokers and nipple covers...
Harnesses, luxury BDSM accessories, often made of leather, are often indispensable accessories for sexy lingerie when you try bondage. Let yourself be tempted by our leather harnesses from the brand UPKO, Mia Atelier, Blasted Skinor our shibari rope harnesses from Figure of A.