FIGURE OF A was born from the talent of Anna Kii, Shibari artist and fashion designer. Unique Rope Art Inspired Fashion - Statement Pieces
An aesthetic, sensual and modern collection of accessories inspired by Japanese bondage, to be worn on a daily basis or in the evening with a more fetish outfit. Each piece is made to order, from top quality leather and waxed cotton ropes, handmade by the designer in London.
"Megami" means goddess in Japanese. The Megami set consists of a Self-Tie harness to compose and tie yourself and a removable collar. The Self-tie harness will allow you all possible combinations, the imagination will be your only limit... The Self-Tie is an extra length of rope that attaches to the choker with a small carabiner ring. It can be wrapped around the body and is adjustable, it can be tied with a simple knot in both the back and front. The choker can be worn attached to the harness or alone. Closing at the back. Silver finish. Fully adjustable.
Available in two sizes:
Size S/M: Neck 40-42 cm / 15-16 inches (Fits neck 31-35 cm / 12-14 inches) + Harness (Fits : Bust 85-95 cm Size 60- 75 cm / Bust 33-37 inches Size 24-30 inches)
Size M/L: Neck 42-44 cm / 16-17 inches (Fits neck 35-40 cm / 14-16 inches) + Harness (Fits: Bust 95-105 cm Size 75-90 cm / Bust 37-41 inches Size 30-36 inches)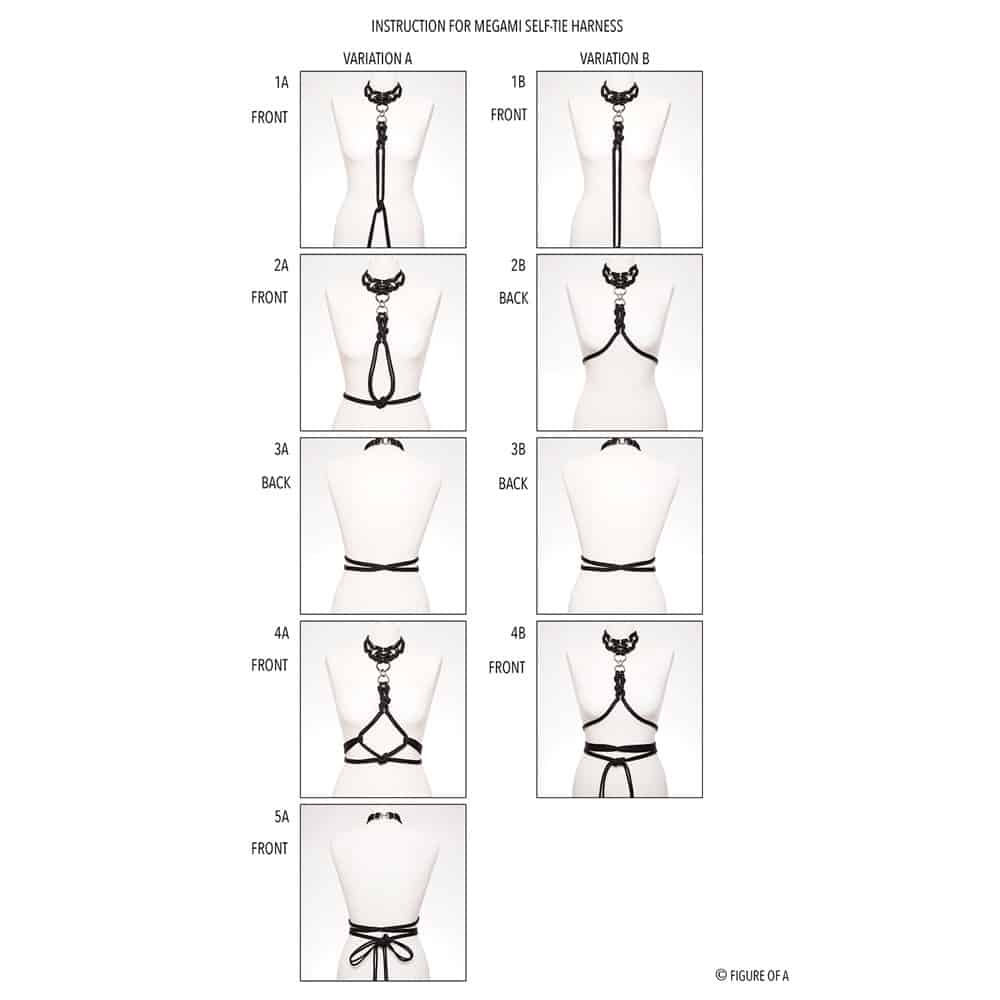 Shibari:

In Japanese, the word "shibari" means "to tie". The contemporary meaning of the word describes an art form of bondage. Originating from the ancient martial art Hojojutsu and the artist, Shunga, torture of Seiu Ito, Shibari was popularized in Japanese erotic magazines of the 1950s. Now it is a form of aesthetic bondage practiced around the world, also called Kinbaku.

Traditionally, lengths of natural fiber rope of 5, 6 or 8 mm in diameter are used. The geometric patterns made with the rope, contrast nicely with the natural curves of the body. The binding experience is always a collaboration between the rigger and the model, the result of which can explore notions of visual beauty, sexuality, power exchange, relaxation and body challenges.
Care tips:

Store Figure of A creations folded or hung on a hanger in a dark, dry place. Do not crush them to avoid warping.

Items made with waxed cotton rope cannot be fully washed, but can be professionally cleaned/dry cleaned. Minor stains can be wiped off with baby wipes. Polyester rope items can be hand washed or dry cleaned.

Hand washing instructions - Fill a basin with warm water. If necessary, add a small drop of mild non-alkaline detergent or baby shampoo. Place your item in the basin and stir gently for a minute or two, being careful not to scrub it or leave it in too long. Rub it gently with a cloth.
Rinse the item thoroughly to remove any foam. Dab the rope to remove excess water and dry the metal parts as much as possible.
Air dry flat on a towel out of direct sunlight. Do not wring it out, tumble dry or iron it as this will damage the cord. Make sure it is completely dry before storing.
Creation made to order - The creations made to order by the designers are not eligible for returns, pursuant to the provisions of Articles L 121-16 et seq. of the Consumer Code (Hamon Law 2014).