HighOnLove is a range of sensual cosmetics for women who are ready for an exceptional experience!
HighOnLove presents its range of sensual cosmetics and self-care products for women who are ready for an exceptional experience!
High On Love is a high-end collection of wellness and intimacy products based on hemp seeds designed to take your pleasure to new heights.
Different types of products are proposed according to your desires... You can find sensual stimulating oils by way of sensual candles or the CalExotics Mini Wand vibrator, everyone can find their way!
HighOnLove offers its products from all-natural and Vegan ingredients.
Founder Angela Mustone created this collection after decades of experience in the fields of cosmetics and cannabis. She has succeeded in combining her two fields by exploiting the advantages of hemp which has virtues of pleasure.
The creator had a real revelation during a trip to the Far East when she was looking for exceptional ingredients. She discovered that the mind and body are able to connect more intimately through the benefits of hemp oil combined with natural essences.
The HighOnLove elixirs make you discover new sensations and transform the intimacy of all those who touch them, so that you can taste new experiences!
In addition, each product is manufactured in small batches to guarantee impeccable quality.
The products HighOnLove keeps its promise and that's why customers are loyal to the brand because it encourages women to take their sensuality in hand.

Our HighOnLove self-care bestsellers!
HighOnLove Sensual Massage Candle
The sensual massage candle is based on soy wax and enriched with hemp seed oil and coconut oil with a rose scent to seduce your senses .... Around a relaxing bath with your partner, create a sensual and romantic atmosphere and raise the temperature of the room!

Prepare yourself for an unforgettable moment of relaxation, 10 minutes after lighting the candle, the oil will form and you will be able to gently massage your partner's body... the warm oils will encourage the exploration of your partner's body. It's up to you to try...
HighOnLove- Dark Chocolate Body Paint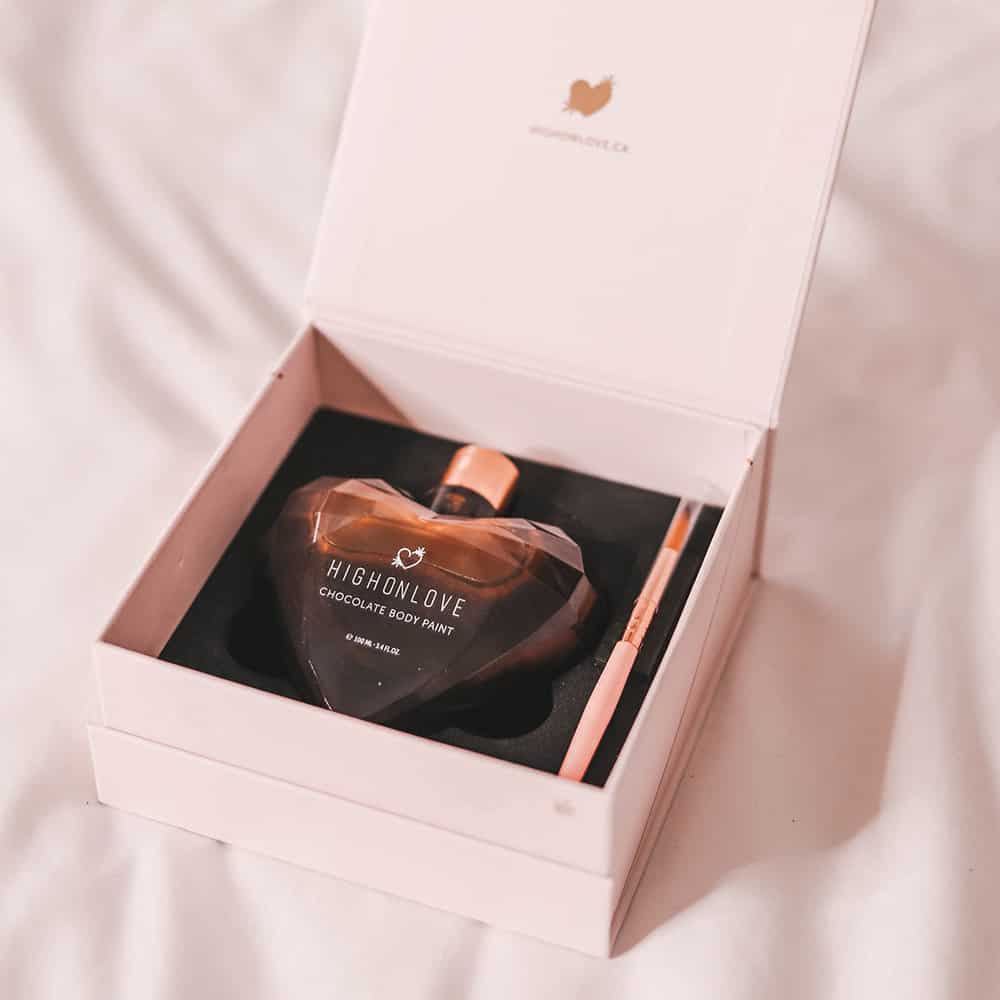 For sensual moments with your partner choose the Dark chocolate body paint for a culinary and romantic experience you'll want to relive again and again! Your sensual moments take on another dimension with HighOnLove dark chocolate body paint.

We can't get enough of it... Draw on your partner's body for quality foreplay! Aphrodisiac, this rich and subtle dark chocolate is infused with hemp seed oil for a pure pleasure experience.
Inspired by the great chocolate makers of Brussels. To eat without moderation!
HighOnLove- Stimulating sensual oil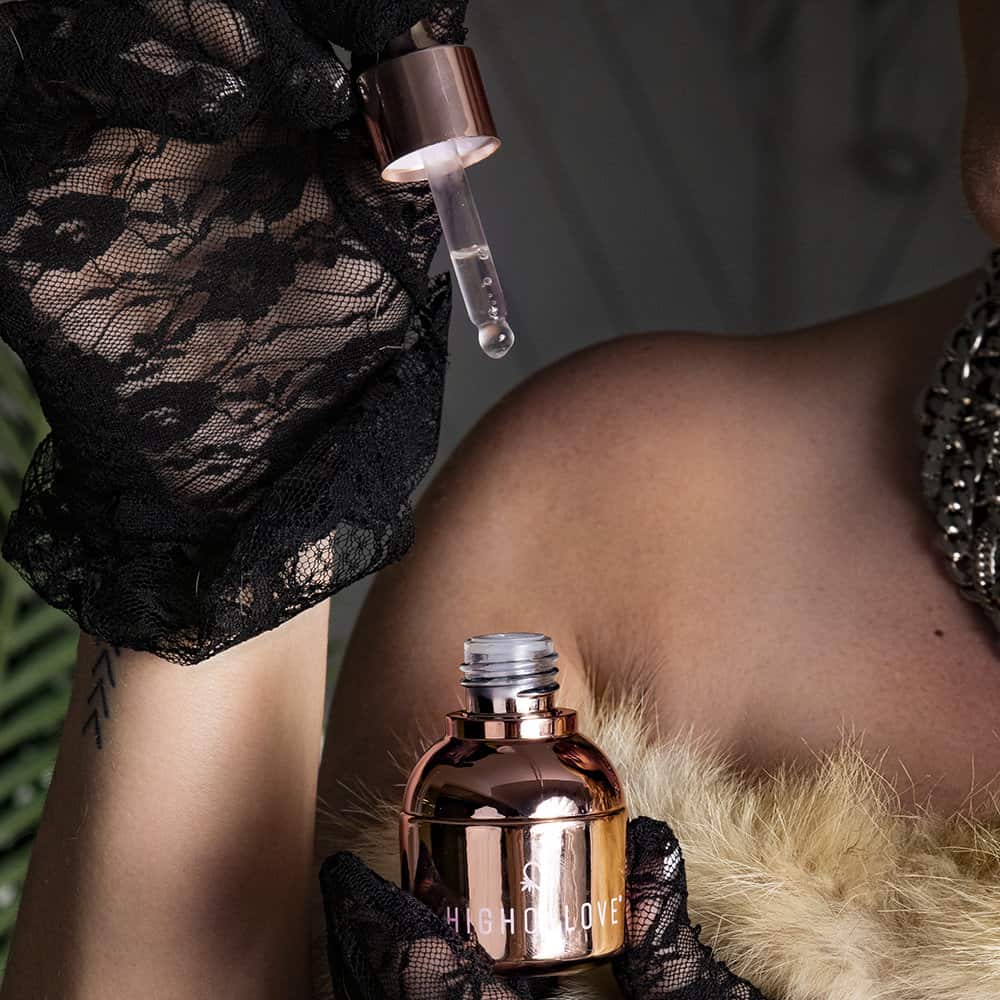 A sensual fusion of all-natural oils to revolutionize your intimate life and achieve unparalleled sensations. Apply our elixir gently and massage into the erogenous zones to moisturize and awaken the senses.
The stimulating oil HighOnLove is enriched with hemp oil to transform the experience of women who experience discomfort, vaginal dryness and decreased libido. Created with care by women, and enjoyed by all. Produced in small batches to ensure unsurpassed quality.
Recommended use is 1-2 drops (approx. 1 ml). Each bottle comes with an easy to use dropper. Apply to erogenous zones to achieve unparalleled pleasure.
Vegan self-care meets luxury, made with premium ingredients to revolutionize the way you love! Very erotic cosmetics Brigade Mondaine…
HighOnLove- Pleasure collection box set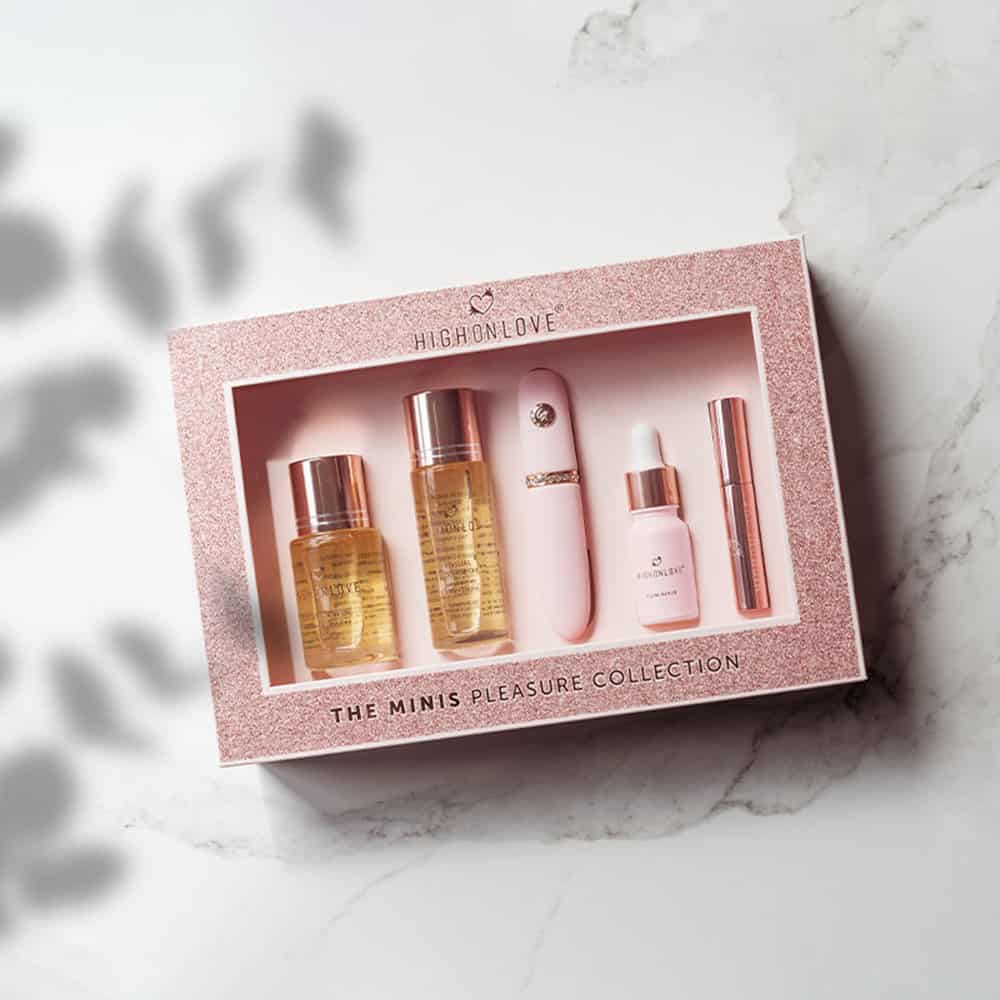 Proof that small formats are as indispensable as large ones!

This box is composed of our flagship products HighOnLove infused with hemp seed oil: our sensual stimulating oil, our sensual bath oil Lavender and Honey, our sensual massage oil Strawberries and Champagne and our plumping lip gloss.

Discover the intensity of new pleasures with the CalExotics Chic™ silicone vibrator, rechargeable via USB it features 10 speeds.
We love this assortment of mini-pleasureOne thing is sure, there is something for everyone! A luxury packaging for an exceptional product... The products of well-being and intimacy High On Love benefit from a very luxurious and ready to offer packaging!