Sublimate your neck and give yourself a bad kind, tonight you are naughty, surprise your partner and let him punish you with a necklace and a leash bdsm of the most erotic!
What could be better than spicing up your sex life with erotic accessories? Indulge yourself and fall in love with Brigade Mondaine for the bondage collars and leashes BDSM.
The necklace, the outerwear accessory that also became underwear with Brigade Mondaine
If the necklace and the choker are originally accessories to be worn during the day, some designers have fun creating pieces to be worn in intimacy as well.
On the Brigade Mondaine website, you will find a selection of women's necklaces and chokers made for the bedroom as well as for fetishwear.
A two-in-one accessory that will allow you to be sexy in bed and rock on the street!
The black Asobi choker by Bordelle is one of our bestsellers, made with satin elastic and 24 karat gold plating, you won't resist its braided detail and its O ring on the front. Wear with a Bordelle lingerie set or with a nice shirt.
The rosary necklaces from the Original sin collection from Fraulein kink will be perfect on a nice top for a rock and gothic style, but also with a set from the same collection to add a feminine and sensual touch.
Born from the artistic collaboration between Upko and Brigade Mondaine, the BDSM choker necklaces have made a sensation. Choker necklaces O with words written in 24 karat gold plated letters inlaid with a crystal. These bondage necklaces are compatible for sexual games as well as for everyday wear with a classic outfit.
Naughty, Toxic, Slave, Honey, Baby doll, Slut, Owned, Mondaine... Find the right word for you!
Necklaces and chokers for all tastes
Whether you are vanilla, kinky, extreme, supreme you will find your happiness among all our designers!
For the novices of BDSM we advise you the brands like ELF Zhou London which proposes choker excluded BM of different colors handcrafted from satin elastic and 24 karat gold plated finishes.
But also Asche & gold, which offers old gold and black leather necklacesThese are trendy and modern with a touch of bondage chic.
For BDSM experts, The Model Traitor brand will seduce you with unique and high quality bondage accessories, such as the collar Oassembled from 3 golden chains, perfect for a hot night!
If you are a leather lover, we suggest you take a look at the necklaces of the brand Ichorbondage necklaces ultra fashion.
You will also like 0770, the black nappa leather collars and chokers with silver details: studs, rhinestones, rings, enough to sparkle in your intimate moments!
The bdsm leashes, the dominant accessory par excellence!
BDSM is the practice of sexual games involving bondage, discipline, submission and masochism.
Often we think that BDSM practices give power to the dominant, but in reality, the submissive person holds the ultimate power of consent... if there is consent then there is play and the dominant can have fun as he wants with the use of many BDSM accessories including the leash...
Ideal for games of constraint and submission, bdsm leashes will allow you to take control of your partner and reveal your authoritarian side. 
Turn your deviant desires into delightful reality with the Slavic chain leash from ELF Zhou London.
Hang on any necklace bdsm venus short leather leashes from Elif Domanic, in calf leather and gold plated finish this leash is as chic as it is erotic! 
You will have a lot of fun if you use the Cherish collar set mixed leather leash from SPNKD, mysterious black on the outside and nude on the inside, the perfect match! Cherish won't let go... unless you ask nicely.
It's time to take or lose control with our BDSM leashes!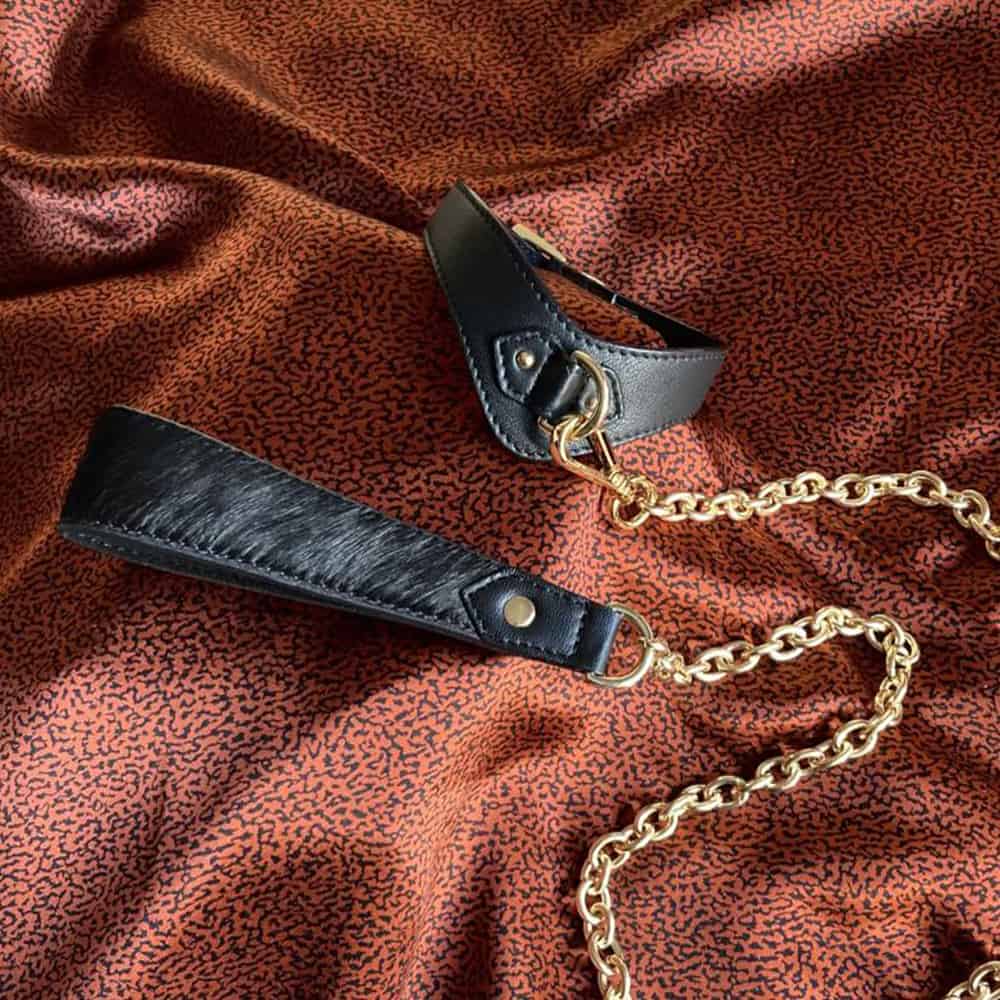 Essential accessories for your erotic games
If you like to play with your partner(s) the use of a bondage collar and BDSM leashes will allow you to imagine various scenarios. 
Tonight you are dominated and you wear a submission necklace with the pony leash from Model Traitor, this leash is suitable for beginners as well as for experienced BDSM lovers.
Tomorrow you will be a wanton queen thanks to the choker Queen in black silk from BoundUp, composed of a royal lace necklace and closed by two silk ribbons, attach this piece as you wish.
Become the perfect Parisian girl with the Eiffel necklace from the French Kiss collection from Fraulein Kink, imagine yourself at Paris, under the Eiffel tower in the middle of an intimate moment...
Be imaginative and inventive, be the dominant or the dominated with Brigade Mondaine's bdsm collars and leashes!
It is no longer a question of bra and panties to wear a set of erotic lingerie, luxury reinvents the classic sets by adding ultra erotic and refined accessories.
Accessories to test and to have to be even more sexy at night and modern during the day!
The bondage necklaces and BDSM leashes of our designers are essential to complete your lingerie sets. Affirm your sensuality, spice up your parties and your naughty games!
Bondage Collars & Leads BDSM
Sometimes a daytime fashion accessory, sometimes a BDSM accessory, the choker is a must in the world of fashion and bondage. The necklace is a very popular jewel that will undoubtedly enhance your neck. Being a small embrace at the level of your neck, BDSM necklaces, also called chokers, are more and more popular as a fashion accessory. The submission collars, often combined with BDSM leashes, will be your best allies during your BDSM games. This accessory will only accentuate your domination and/or submission. Choose your choker among our selection of bondage collars, including those from our different creators, E.L.F Zhou London for chic and a little leather blingbling, Flash You and Me for a simple, sexy touch, Bordelle for luxury retail, and then some. UPKO for ever more bondage and submission. Brigade Mondaine offers you unique pieces in limited edition. Show your belonging to your partner with the choker in limited edition, 'OWNED'This is the result of the collaboration between PKOU and Brigade Mondaine. The limited edition necklaces are available in different versions, just discover them. here and find the room that's right for you!