Brigade Mondaine presents the new creation of Couture de nuit the playsuit Grace. The brand's most sophisticated creation to date, with gold-plated finishes.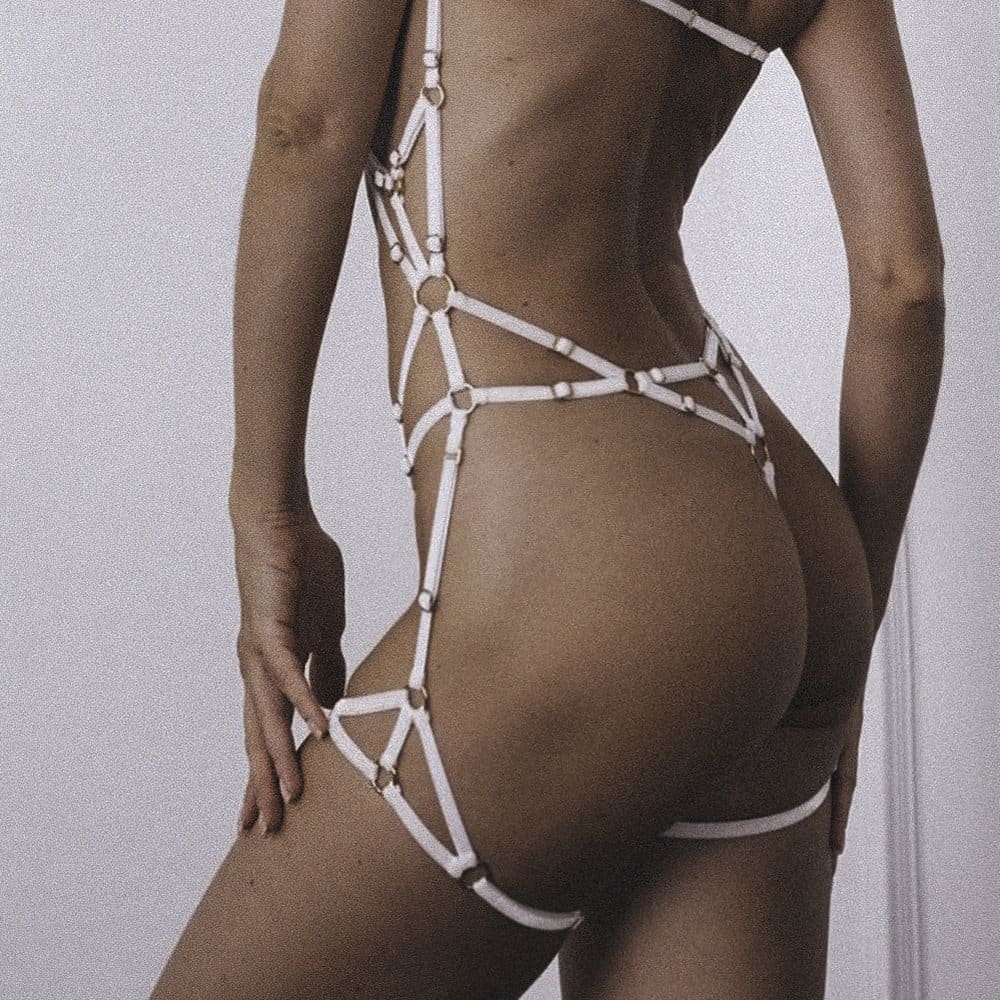 Couture de nuit was born from a desire to mix elegance and eroticism, which the designer Alexandra could not find anywhere else. A brand sensual and detail-oriented that will take your outfits to a new level of grace and voluptuousness.
Alexandra, the creator of the brand, destines her creations for the free women, who assert themselves and who are not afraid to surprise. All the articles are made in Barcelona, Spain, by hand. From the cutting of the ribbons to the assembly of the playsuitsit takes several hours of manual work
This designer makes it a point of honour to make each person feel impeccable in the playsuits which are created with as many adjustable elements as possible.
The elastic material fits a wide range of body types perfectly. Just play a little with the tightening loops when the playsuit is worn, and it will fit your curves as if it were made to measure.
The brand does not operate in the form of new collections for each season. But rather prefers to offer new models when they create something spectacular.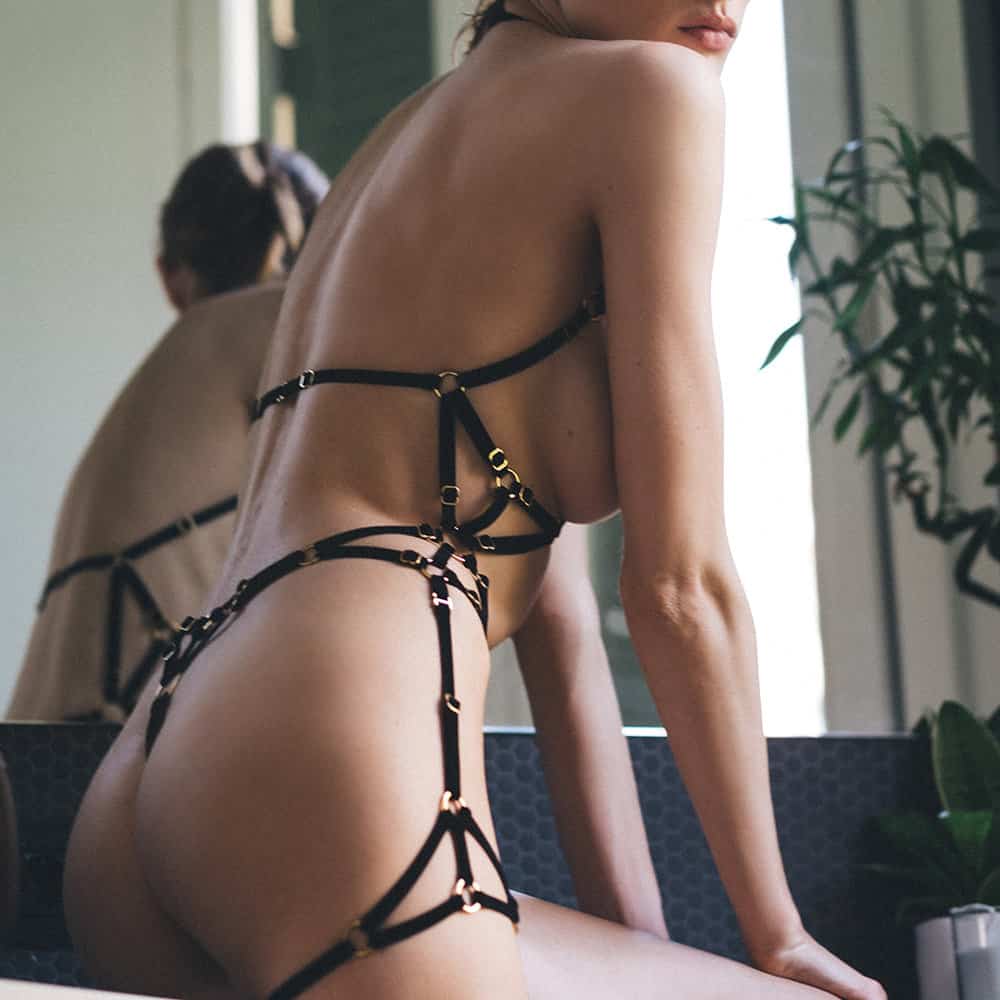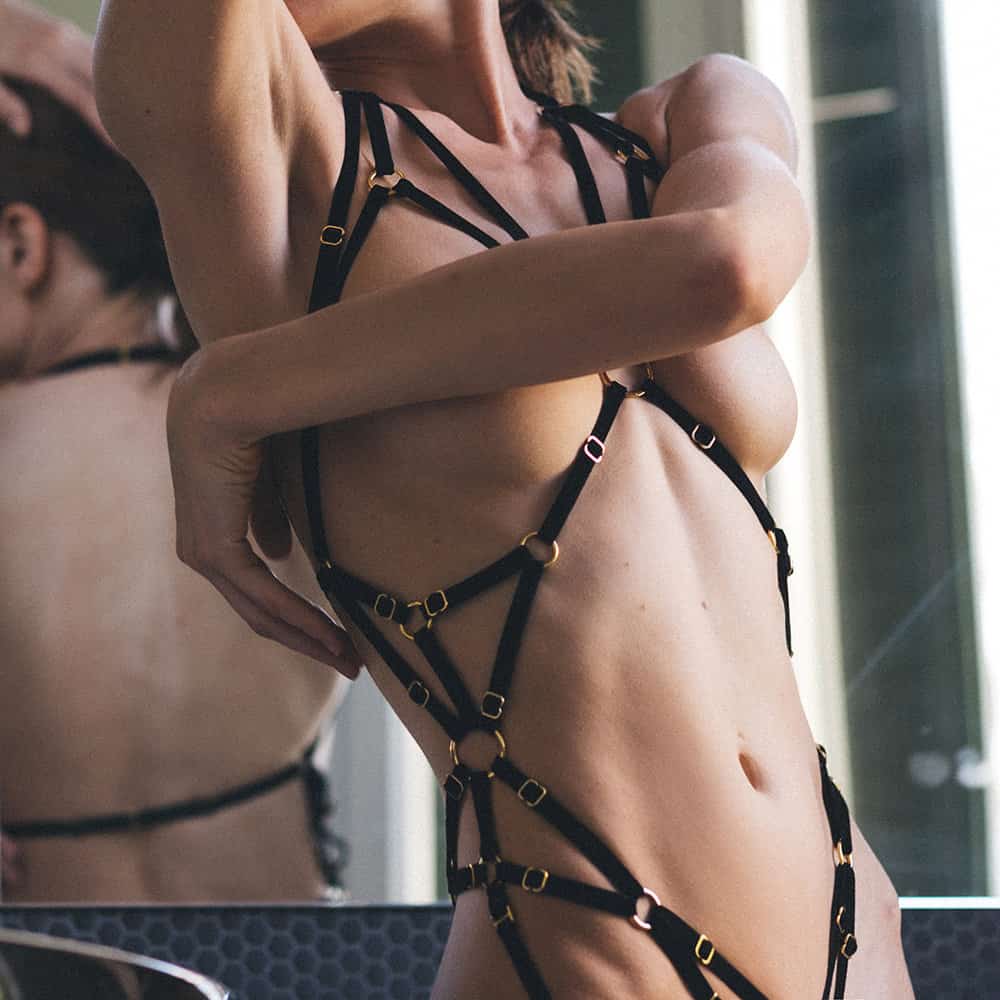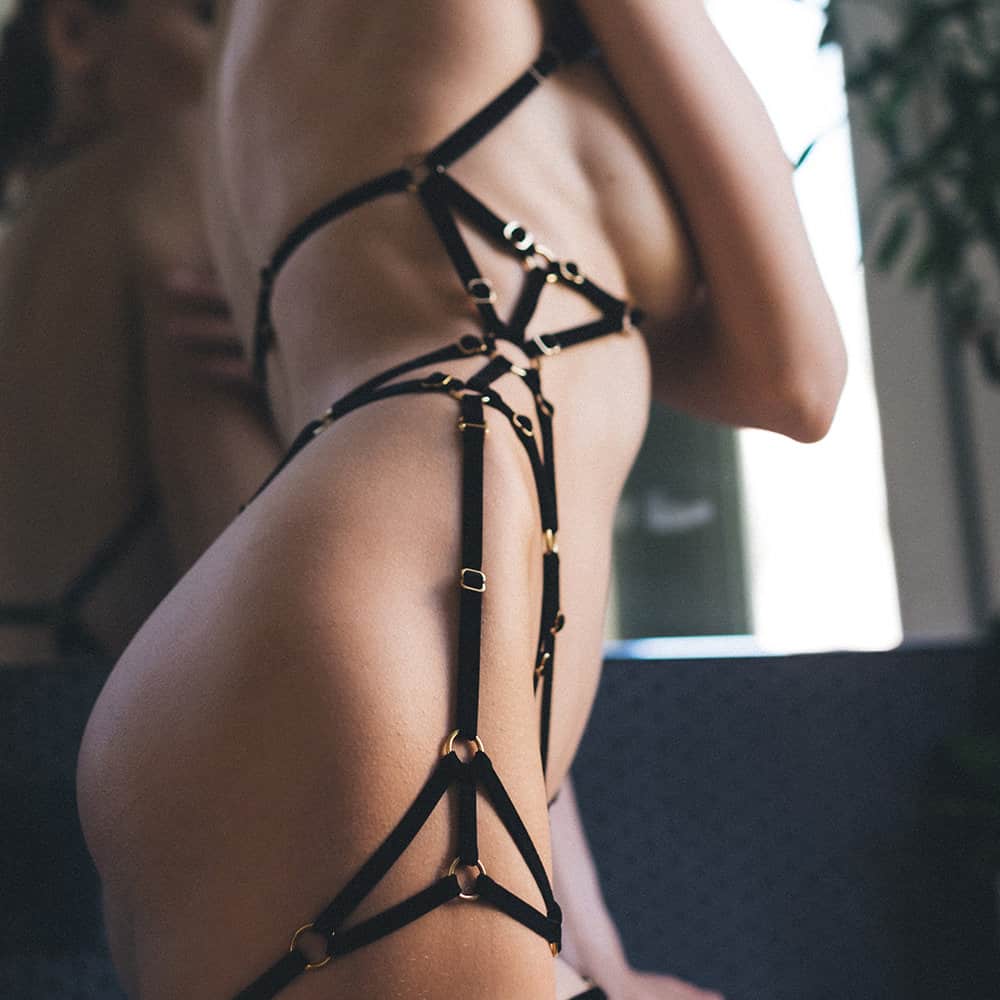 Thanks to a playsuit unique
Gracethe piece since its creation. It is composed of 64 elements and combines a playsuit and a strap. The seams form geometric triangles, which create a unique pattern on your skin.
For the first time, the designer creates ae piece "snow-white". It can become a stunning lingerie set for a daring bride or an exceptional wedding gift. It will guarantee a most delightful wedding night.
His two accessories for the legs are equipped with hooks, so you can adjust them or remove them, depending on your mood.
One size XXS to L thanks to the adjustable elements. It is also black and blue.
This piece is 100% Cruelty Free because the brand is dedicated to producing timeless creations with no negative impact, which can be worn proudly by exceptional women.It is entirely handmade in our workshop in Barcelona, Spain, with quality materials. It takes about two hours to assemble all the elements and another eight to assemble them manually.
The playsuit is not only a piece of lingerie but is also a accessory of desire, that you choose to wear for your intimate moments or as an exclusive and original piece for your most sexy looks.
Although its many seams and ties may impress, they are easy to put on and fit your body.
It is an artistic piece that will allow you to observe your curves under a completely different prism and awaken the goddess in you.
Lingerie harnesses, are beautiful entanglements that will sublimate your silhouette. To begin, the elastic is carefully chosen to be the most pleasant on your skin. We propose, for example, velvet elastics that will tenderly caress your curves. Each piece is adjustable according to your choice to assure you a maximum of serenity. But at Brigade Mondaine, we are at your disposal if you have any hesitation. The elastic elements adapt themselves, and are posed on the skin with delicacy.
Adjust your harnessand let it embellish your curves, and dazzle anyone who has the chance to surprise you in it.
The alternatives are bodysuits and catsuits which are very sensual and versatile pieces of lingerie because they can be worn for everyday life as well as for special occasions. If your goal is to create a surprise, let yourself be tempted by bodysuits and catsuits proposed by Brigade Mondaine.
These different pieces will allow you to complete your collection of femme fatale and enjoy your freedom.
From harness open bondage-inspired, that are sure to impress and leave memorable souvenirs, made from velvet elastic and adjustable to every body shape thanks to an ingenious system of gold-plated slides.
Play with the sliders for a perfect fit! Versatile and original creations, the harness can be worn alone for a very erotic evening, like accessories to spice up your usual lingerie, or as fashion pieces combined with your outfit for sublime looks that will not go unnoticed.
If you want to feel playful, confident and free, wear Grace
Lingerie & Playsuits Harnesses
Lingerie slings, or playsuits, are more than a web of elastic. First, the elastic is carefully chosen to be the most comfortable on your skin. Then, each piece of elastic is put together, to beautify your body, and enhance your shape. Everyone should feel good in these exceptional pieces, and that's why each piece is as adjustable as possible, but also why we are here to help you if you are unsure! The elastic elements fit, and sit gently on the skin, to fit a maximum of body types. Adjust your harness, and let it embellish your curves, and dazzle anyone who is lucky enough to catch you in it.
You'll feel like it was made for you.